As environmental concerns continue to grow, more and more organisations are looking for ways to reduce their carbon footprint. That's where a carbon management strategy comes in.
At Metis, we help our clients develop and implement effective carbon management strategies that can significantly reduce their environmental impact and work towards ambitious net zero carbon emission goals.
Learn more about our approach and the general steps we take when implementing a carbon management strategy.
Our approach
Our carbon reduction approach focuses on helping clients reduce emissions at all stages of the carbon reduction pyramid, with priority given to planning stages – where we can make the most impact.
We aim to build nothing, build less, build clever, and build efficiently by reviewing works at early stages to determine whether innovative solutions can reduce the carbon impact of works.
We do this by reviewing how clients operate and developing approaches which limit the carbon footprint whilst delivering the optimum levels of service. These carbon reduction approaches include:
Reducing unnecessary hard engineering works
Prioritising nature-based solutions
Altering the usage of assets to extend their design life
Developing efficiencies in working practices to rescue unnecessary waste in time or materials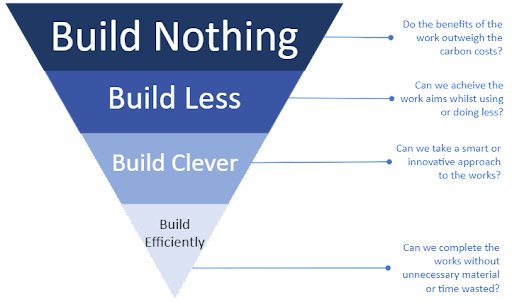 Step 1: Assess current carbon footprint
The first step in implementing a carbon management strategy is to assess the client's current carbon footprint. This involves analysing data from the client's operations to determine the amount of greenhouse gases they currently emit. This data is then used as a baseline to measure progress against as the carbon management strategy is implemented.
Step 2: Develop carbon reduction approaches
Once we have a clear understanding of the client's current carbon footprint, we work with them to develop carbon reduction approaches. This may include changes to operations, such as switching to renewable energy sources or reducing waste, as well as changes to products or services offered.
Step 3: Set targets and goals
After developing carbon reduction approaches, we help the client set carbon emission reduction targets and achievable goals to track progress. We work closely with the client to ensure that these targets align with their overall business goals and are feasible given their operations.
Step 4: Implement carbon reduction approaches
With targets and goals in place, we work with the client to implement the carbon reduction approaches developed in Step 2.
This may involve changes to processes or operations, as well as the adoption of new technologies or materials. We work hard to ensure the client is fully committed to these changes and that all stakeholders are involved in the implementation process.
Step 5: Monitor and report progress
As the carbon management strategy is implemented, we closely monitor progress to ensure that the client is on track to meet their targets and goals.
We provide regular reports to the client that detail the progress made and any areas where improvement is needed. This ongoing monitoring and reporting is critical to the success of the carbon management strategy.
Step 6: Continuous improvement
Finally, we work with the client to continuously improve their carbon management strategy. This may involve revising targets and goals as new information becomes available, or identifying new carbon reduction strategies to implement.
At Metis, we believe that implementing a carbon management strategy is critical to reducing the environmental impact of businesses and organisations. By following these steps, we can help our clients reduce their carbon footprint and work towards a more sustainable future.
Our team of experts are ready to work with you to develop and implement a customised carbon management plan that meets your needs and helps you achieve your sustainability goals. If you're interested in learning more, please get in touch with us.